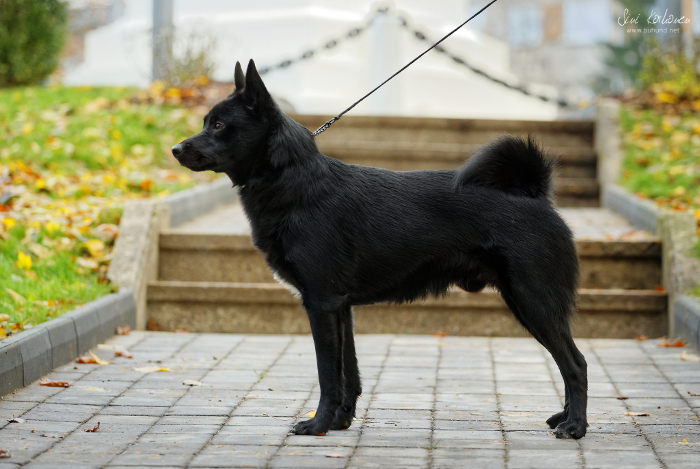 | | |
| --- | --- |
| Register number | FI40765/16 |
| Day of birth | 04.07.2016 |
| HD | C/C |
| ED | 0/0 |
| Back | LTV0, VA0 |
| Breeder | Sini Korhonen |
| Owners | Sini Korhonen & Elina Kallio |
About Mana
Mana is co-owned with Elina, with whom he also mainly lives. Elina has dreamed of a buhund for several years and she happened to have a place for a new dog when Tulhu got her puppies. Tulhu's owner is Elina's sister and Elina has had the opportunity to follow Tulhu & other buhunds close. She was with me in Norway when I visited Svaale & Niko to breed Vaala and Tulhu. Elina has also trained agility with Tulhu and been in rally-obedience competitions with Freia. So from the very start it was clear that if Tulhu has a nice male puppy, he will go to live with Elina.
So when all the puppies were born, Mana was chosen - almost straight off the litter box. When Mana grew, the decision only got stronger. Mana is brave but not overly social with people, just like his mum. He can be rewarded in many ways and plays nicely with toys. Mana is supposed to be mainly showdog but he will also be trained in some dog sports (blood tracking, rally obedience etc.)
Mana is an active puppy who requires activity. He is very independent but when he is concentrating on working, he forgets everything else.
Mana has also had some success hunting mice. No more mice inside the walls after Mana found out how much fun it is to catch (and eat) them. Elina was also interested to really hunt with him, if he has the instinct.